Best Managed IT Service Provider in San Jose
Best Managed IT Service Provider
Network Remedy was named top 15 managed IT service providers in San Jose
By Karina Rich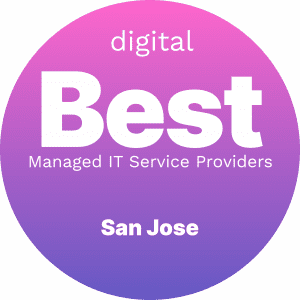 Network Remedy made Digital's Best managed IT service provider list for San Jose in 2021. Digital has a list of qualifications to determine its top 15. Some of these features are:
Multiple Service Lines

Network Remedy can work with your current providers to ensure transition is smooth. Or partner with ours and potentially save money on your IT spending.

Size of firm

At Network Remedy we like to run mean and lean. Our team of highly qualified and experienced IT consultants are ready at a moment's notice.

Industry Focus

To be one of the best managed IT service providers it is essential our client base varies. Ensuring our team finds solutions and processes that drive success.
At Network Remedy we take pride in the value that we provide for our clients and future clients. It is what sets us apart from our competitors.
"We evaluated 67 managed IT service providers based in San Jose on 10 different variables to give you a list of the best managed IT service providers in the area. Our reviews of the top 15 managed IT service providers in San Jose include important information, such as costs, features, and what customers are saying."- Digital.com

We are humbled by the feature and will continue to provide excellent service to all of our clients. At Network Remedy we are constantly evolving and growing to ensure our clients are tackling their goals and milestones. At Network Remedy, we like to say our client's success is ours and this feature is a testament to that.
Digital is a business review site that rates based on customer feedback across a multitude of web-based platforms. Based on their sentiment analysis algorithm, Digital will score a small business. Digital helps small businesses make the right buying decisions.
To view, this article on Digital click the link here